Without chickens, there won't be eggs; without eggs, there won't be chickens. But this isn't why you are here. You are on this page to find the best egg incubator for poultry birds, especially chickens.
An egg incubator is required to hatch fertile eggs to chicks or younglings. If the eggs don't hatch, you won't have chicks. This is just the real truth.
If you have hatchable (fertile) eggs and your objective is to get the eggs hatched, you will surely need an egg incubator. Hatch rate, effectiveness and efficiency are higher with an incubator than with a hen sitting on the eggs.
Many egg incubators are available in different sizes, shapes and options and come at various prices. These coupled together could be overwhelming, especially for someone who needs something durable and, most importantly, the best egg incubator on the market.
I wrote this guide on the best egg incubators for chickens and other poultry eggs to make things easy for you and save you a lot of time.
Best Egg Incubators for Poultry Birds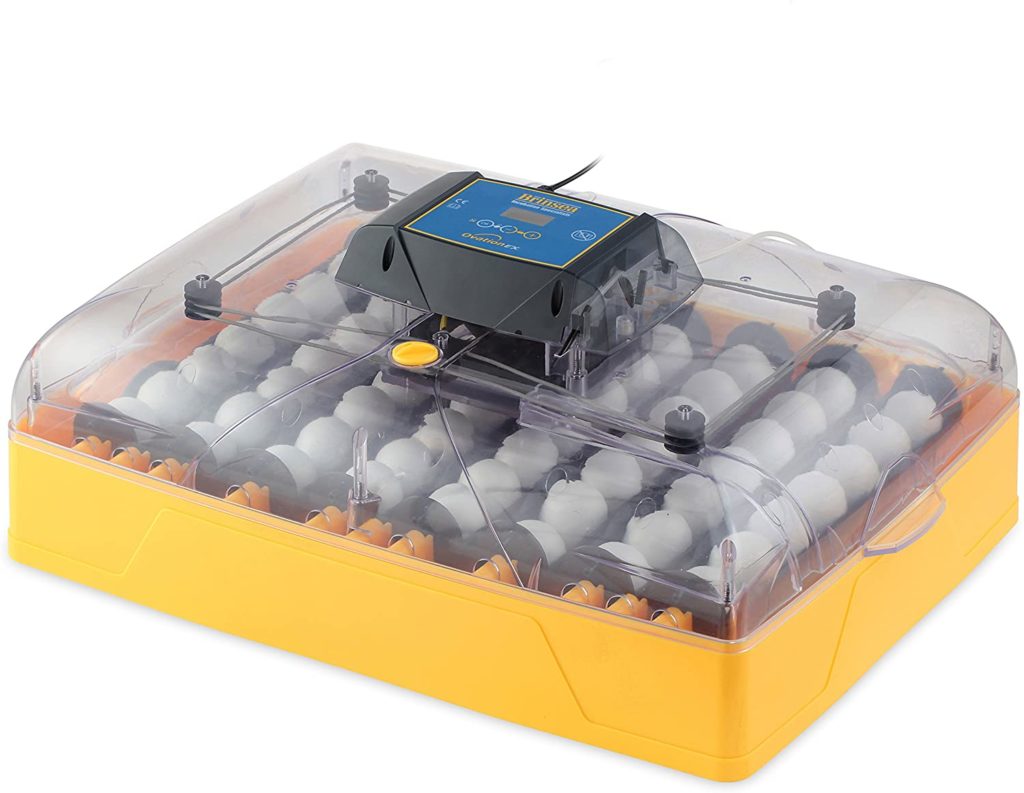 The Brinsea Brand cannot be left out when buying the best egg incubators. The Brinsea Ovation 56 EX Egg Incubator is one of today's best egg incubators. It will give you peace of mind and help you achieve the highest possible hatch success.
This forced-air egg incubator is the most suitable for serious chicken breeders. It has great features, such as an automatic egg turner and a very accurate digital control system for temperature, humidity and turning status. Before I forget, it also has a maximum loading capacity of 56 standard chicken eggs and an optional humidity pump.
Another thing I found about the Brinsea Ovation 56 EX Egg Incubator is that it is produced with robust and clean ABS plastics. Hence, making the incubator easy to clean, antiseptic and durable. Additionally, this incubator is made with accuracy and ease of use in mind. In addition to its ability to control temperature and humidity automatically, it allows the user to program the automatic egg turner. This means you can set your desired temperature, humidity and egg-turning intervals and let the automatic controls of the Brinsea Ovation 56 EX Egg Incubator do the rest for you. Isn't that awesome? Other features of this unit include:
An inbuilt alarm (alerts you when there is a power outage or when the temperature is too high or low)
An Induced Dual Airflow system
Fan assisted airflow
External water top-up
It is durable, accurate and reliable
It is easy to use and clean
It is fully automated
It has an alert system
It can be used to incubate quail, pheasant, duck, goose and turkey eggs
It is quite expensive, but worth the price based on the features you are getting
It comes with only standard egg carriers. So for turkey, goose or duck eggs, separate egg carriers might be necessary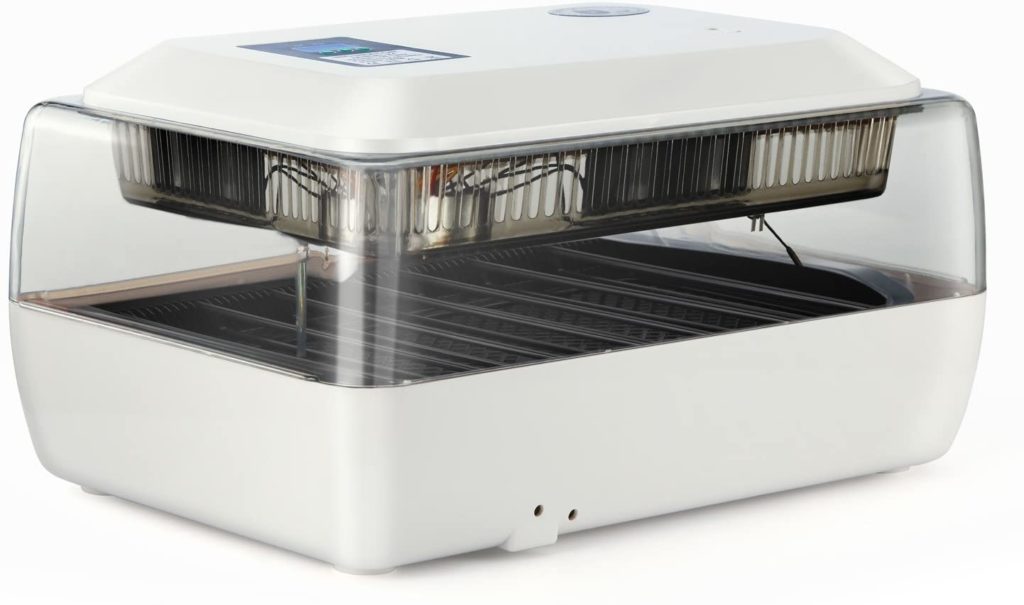 I call this JANOEL 24 Digital Egg Incubator the "best egg incubator for the money." This is because it is not too expensive and possesses the major features you need for successful egg incubation and hatching.
This particular egg incubator is suitable for hobbyists, chicken breeders and teaching kids about egg incubation. It comes with great features like auto egg turning, automatic temperature control and a full led display. It can also accommodate 24 standard chicken eggs. Apart from chicken eggs, it can incubate the eggs of ducks, geese and turkeys—but the loading capacity is lesser for large egg sizes.
The JANOEL 24 Digital Egg Incubator is made of durable and healthy plastics. It also has a transparent casing; hence, you can observe what is happening from the outside. The design of the incubator and the plastics used to produce it make its cleaning and maintenance easy. And yes, it comes with an alarm that alerts you whenever your attention is needed. Its automatic egg turner works inconspicuously. So don't be bothered if it seems not to be working.
Undoubtedly, you are getting maximum value for your money if you eventually settle for this product. You can achieve up to a 90% hatch rate or success with this easy-to-use incubator.
It is easy to use and clean.
Value for money
It is fully automated
It has an alert system
It can be used to incubate duck, goose and turkey eggs
There is no humidity gauge or monitor. You will have to buy or use an external hygrometer.
It is quite expensive for most people but worth the price.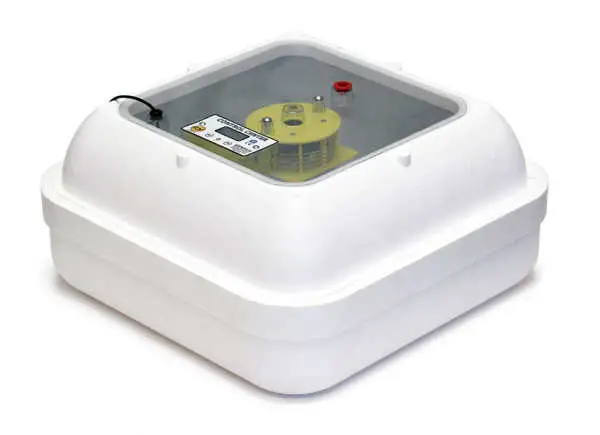 Hatching fertilized poultry eggs is one thing, but achieving a higher hatch rate with maximum rest of mind and without breaking the bank is another ballgame – HovaBator Genesis 1588 egg incubator falls in this class. If you don't believe me, check out the HovaBator 1588 incubator, an incubating machine that will help you incubate your beautiful poultry eggs.
This 12-volt powered HovaBator Genesis egg incubator model is another suitable machine for beginner or small-scale chicken farmers and breeders. It is also a perfect choice for laboratory and classroom educational purposes. It is perfect because there is no need to assemble it – the manufacturer has already done this. All you need to do is plug it in, fill the humidity chamber with water and set the eggs inside. The manufacturer has even preconfigured the incubator for chicken eggs, thus making it easier for beginners to incubate and hatch eggs.
The incubator's design is not too good; made of Styrofoam (not plastics) and has a plastic mesh floor and egg tray. It also has both a 12″ x 12″ viewing window and a Digital Display Control Module on the lid. Most importantly, this egg incubator is easy to clean and maintain.
The HovaBator Genesis 1588 egg incubator has an automatic temperature control system. It has an inbuilt microprocessor-based thermostat – a device or mechanism that helps regulate the incubator's internal temperature ideal for optimal embryonic development inside the eggs. Of course, you can also adjust the temperature to your desired value, but it might be unnecessary to do so. A remarkable thing about the inbuilt thermostat is that it thermoregulates itself digitally. With this technology, the device can maintain the set temperature irrespective of any changes in temperature, humidity or dirt. I will also like to mention that this incubator comes with inbuilt heat sensors that prevent eggs from being cooked due to overheating.
In the control center lies an LCD unit where you can see the actual temperature and humidity. This is an important feature in all the best egg incubators as it helps users know their incubator's operational status. As a forced-air incubator, this incubator comes with a built-in fan for uniform circulation of fresh air and to stabilize temperature. I won't forget to mention that the incubator can hold 50 standard chicken/duck eggs or 130 quail eggs.
If you indeed want high hatch success and the best EGGxperience, HovaBator Genesis 1588 Egg Incubator is one of the best chicken egg incubators you should consider buying.
Safe and beginner-friendly
Easy to clean and maintain
Excellent temperature control
Value for money
Power-efficient
Works for duck, goose and quail eggs
Have to buy an egg turner separately as this model comes with none.
Made with Styrofoam which is not biodegradable, unlike plastics
No alarm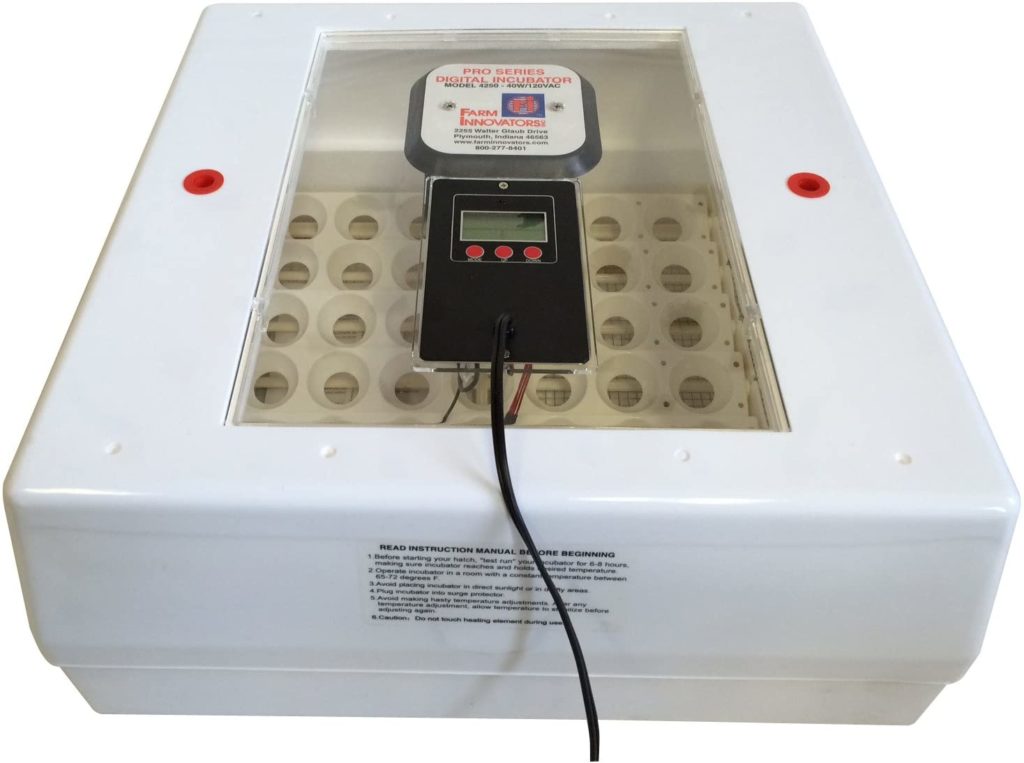 Yet another best egg incubator for household egg hatching is the Farm Innovators 2450 egg incubator. It is a machine that will meet your incubation and hatching needs. As far as this particular incubator is concerned, it is among the most recommended on the market.
Are you a researcher, teacher, poultry farmer or breeder? The Farm Innovators 2450 Egg Incubator is what you need to achieve your incubation/hatching-related tasks. It is a forced-air egg incubator (which comes with a built-in fan) that can hold up to 41 standard chicken eggs. Furthermore, it comes with an automatic egg turner, which works every 4 hours. It also has an inbuilt thermostat, which helps in regulating the temperature within the incubator automatically. Although the Farm Innovators 2450 has no alarm, it has a notification light that blinks whenever the internal temperature rises above 103oF or falls below 97oF.
The structural design of this incubator is good, but I expect something better. The product is made of hard plastics for the outer and inner bodies with Styrofoam for better insulation on the inside. These materials used in building the incubator make it more durable, easy to clean and protect it from harsh environmental conditions.
For users to observe what is happening inside the incubator, the Farm Innovators 2450 has a large viewing window on its lid. There is also an LCD unit showing the actual humidity and temperature readings. So, it's evident that the incubator has an in-built hygrometer. You can also set your desired temperature or egg turning cycle on the control panel at the top.
Irrespective of this incubator's drawbacks, it will help you with hatching eggs with up to 90% hatch success, and it will serve you for a very long time. In other words, you will enjoy more value for your money.
Capable of holding many eggs
Beginner-friendly
Great temperature-controlling mechanism
Easy to clean and maintained
Nice viewing window
Value for money
Not the best for quail eggs except you buy a separate egg tray
No alarm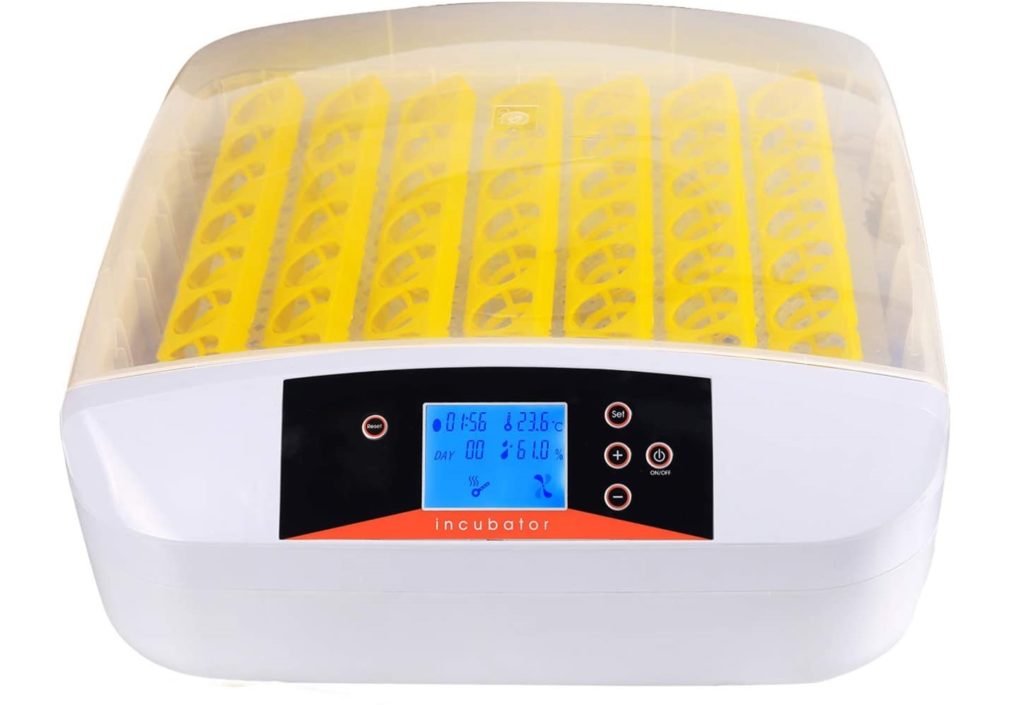 Who would see an attractive, well-designed and "intelligent" egg incubator and wouldn't love to buy it? I guess none? The OppsDecor Intelligent 56 Digital Egg Incubator possesses all those qualities. If you compare its price with others, you will agree that this product is underpriced.
This egg incubator is super easy to use, clean and maintain. It has an automatic egg turner and intelligent humidity and temperature control. The cover of this incubator is made with a transparent plastic material; hence, anyone can observe the incubation and hatching process as they occur inside the incubator. As included in its name, this incubator can hold 56 standard-size chicken eggs and more for small-size eggs.
Being a forced air incubator, the in-built low-noise fan that comes with the OppsDecor Intelligent 56 Digital Egg Incubator helps in air circulation, heat and humidity distribution and regulation. There is also a small water inlet located on the right side of the incubator, through which you can add water for humidity purposes. This prevents unnecessary opening and closure of the incubator, which causes the release of valuable moisture into the atmosphere.
Egg turning has a significant effect on hatchability. Since this incubator has an auto egg turner (which works every 2 hours), it will save you time, which is not possible if you are to do the turning manually. An advantage of automatic turning is that it reduces hand contact with the eggs and greatly minimizes the chance of the eggs getting contaminated by germs.
Another feature of this incubator is its built-in alarm. This alarm goes off when the temperature and humidity in the incubator go out of range. This allows for timely intervention to save the embryos growing inside the eggs. On the LED display that comes with this incubator, you will see important information like the actual internal humidity and temperature, egg turning countdown time and the accumulated hatching days.
If you eventually buy it, you will fall in love with the OppsDecor Intelligent 56 Digital Egg Incubator. No matter your egg incubation or hatching needs, this beautiful incubator will help you to meet them.
Nice viewing window
Capable of holding many eggs
Temperature and humidity warning
Easy to clean and maintain
High hatch rate
Nice design
Frustrating alarm system for an impatient user
Manual addition of water
---
Choosing the Best Egg Incubators – The Ultimate Buying Guide
There are various brands, models and types of egg incubators on the market, making it difficult to know which is the best. The point is that there are different features to look out for in an incubator before buying, and hence, the need for a guide. This article will walk you through all you must pay attention to, so you can choose the best egg incubator. Also, this article will give you an insight into how an egg incubator work.
How an Egg Incubator Works
An egg incubator aims to hatch eggs, such as chicken eggs. This can be regarded as a surrogate parent to a baby bird. An egg incubator is important and necessary when you have hens that cannot hatch their eggs naturally. Let's take a look into how an incubator works:
Temperature control
When a hen sits on her eggs for days during incubation, she provides warmth for the eggs under her. This is what an incubator does. An incubator is designed to provide the ideal temperature the hen would provide for the same period. It takes an incubator, like a hen, 100oF to hatch fertilized eggs.
Air circulation
Even when a mother hen sits on her eggs, she makes room for air circulation to provide oxygen to the eggs. An incubator is also designed to fulfill this purpose of air circulation, as some incubators (forced-air incubators) come with a fan, which circulates warm oxygen to promote organisms' growth. Those that come with no fan (still air incubators) use the air within the incubator.
Humidity control
To hatch an egg perfectly, there must be provision for humidity control. During the time of incubation, an egg loses an average of 12% of its weight, which is credited to humidity. There is a provision for this in an incubator. However, the level of humidity required by an egg to hatch depends on the thickness of the eggshell. As such, the person operating an egg incubator should always ensure that the right humidity is set for the right egg type.
What to Consider When Buying an Egg Incubator
If you want to buy an egg incubator, it is important to know and consider the following main features that the best egg incubators usually possess.
Construction Materials
The kinds of materials used to build or make an egg incubator determine how long it will last or how efficient it will be. Therefore, it is important to check that the incubator you are about to buy was constructed with quality materials. The best materials for incubators include ABS Plastics and PC. Incubators made with any of those materials are easy to clean.
Size
The egg incubator size choice varies with the hatchery's needs and available space. As such, when choosing egg incubators, know the incubator size that suits your needs. If you are a beginner with little space, going for a small egg incubator might be ideal. However, if you have sufficient space for a medium-sized or big-sized egg incubator, please buy a bigger one. This is important majorly because of the convenient space.
Egg Capacity
The number of eggs an incubator can hold and hatch at a time differs. The objective for an incubator determines your choice of egg capacity. If you have only a few eggs to hatch occasionally, choosing an egg incubator type that can hold between 9-12 standard chicken eggs is recommended. However, if you regularly have to hatch lots of eggs, like over 40 standard-sized eggs, you should buy a larger capacity incubator like the above.
Egg Turning
Egg turning is a very important operation during incubator. If you are a backyard chicken keeper, you must have seen a mother hen using her beak to turn her eggs while she sits on them. This shows the importance of egg turning during incubation. While egg turning can be done manually, some egg incubators have automatic egg turners. Choosing an incubator with an auto egg-turning feature is imperative. This will save you the hassle of having to open the incubator now and then just to turn the eggs in it. This also minimizes or eradicates the contamination of the inner chamber of the incubator with germs through touching.
Temperature Control
The ideal temperature must be set to hatch an egg successfully with an incubator. A temperature lower or higher than required will affect embryonic development and hatch rate or success. You should buy an incubator that can automatically control or regulate the internal temperature and has an LCD or LED display to see the temperature ready. Buying an incubator that has an in-built alarm is advised. The alarm will draw your attention whenever something is inappropriate.
Airflow and Ventilation
As mentioned earlier, there must be adequate airflow to hatch an egg successfully. Airflow is also essential to achieve great hatching success. Failure to choose an incubator with proper airflow, ventilation, and a fan will make you record a low hatch rate. Remember, egg shells have tiny pores through which embryos breathe.
Humidity Control and Monitor
To avoid the eggs losing moisture unnecessarily, it is imperative to control humidity in the egg incubator. For a successful hatch, the humidity level must be between 25% and 60%. Any level of humidity outside this range affects embryonic development and hatching success. Most egg incubators in the market have a channel through which water can be added. Check the water level regularly and monitor the humidity level in the display unit.
Ease of Observation
There are cases of mistakes in an incubator. Using an incubator with a transparent lid or picture window lets you know what is happening in the incubator. With this, you can easily know when anything goes wrong inside.
Ease of Cleaning
Another feature you should consider when buying an egg incubator is the ease of cleaning. Avoid egg incubators that are difficult to clean or maintain. Buy one with a cleanable design and materials, such as ABS plastic.
The Best Egg Incubators – Frequently Asked Questions
How much does an egg incubator cost?
There are various incubator brands and models, and they are sold at different prices. These brands or models have different features and performance levels that determine their prices. However, small or mini egg incubators on the market cost between $50 and $150, while incubators that can hold over 40 eggs cost more.
What are the ideal temperature and humidity levels for incubation?
The ideal temperature for an incubator is between 99oF and 102oF, while the humidity level must be between 50-60%.
What happens if eggs are not turned?
If you fail to turn the eggs during incubation, some will not hatch because the developing chicks will stick to the shells. Eggs must be turned at least twice or thrice daily for better results.
Verdict
Choosing the best incubator that suits your hatching needs is not as easy as it sounds due to the numerous incubator brands and models available on the market. With the information provided here, you should be able to select the best egg incubators that will meet your needs. Also, depending on your budget and hatching needs, any incubator you choose from this list will serve you well.
Of the egg incubators reviewed on this page, the Brinsea Ovation 56 EX Egg Incubator is most recommended due to its features like great design, value for money, and excellent performance.