If you're considering hatching reptile eggs or thinking about breeding reptiles such as snakes, bearded dragons, tortoises, turtles, lizards, chameleons, leopard geckos and ball pythons, you'll need a reptile incubator to ensure that your reptile eggs have a suitable environment to develop properly. Reptile incubators are crucial for keeping the reptile eggs safe and at the appropriate temperature and humidity required for proper development and hatching.
With so many different types and brands of incubators on the market, it could be strenuous and onerous to figure out which is best for your needs.
Best Reptile Incubators for Leopard Geckos, Bearded Dragons, Chameleons, and Ball Pythons
The following are the best reptile incubators.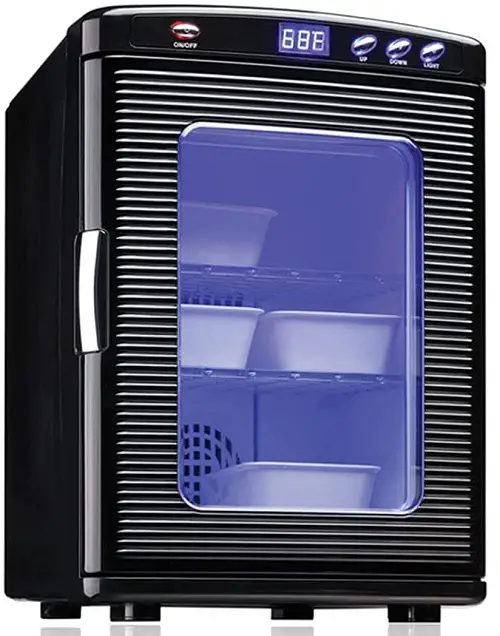 The PreAsion Digital Reptile Incubator is popular among buyers for its spaciousness and attractive appearance. The materials used in its construction appear to be good quality and durable. The eggs can be easily inspected through the glass door. The incubator provides two shelves that slide out, allowing for maximum space utilization for reptile eggs.
Most PreAsion reptile incubator users are satisfied with the product's performance, particularly its ability to maintain a consistent temperature. One of the most convenient features is its adaptability for use in a car, with an easy-to-carry handle for transporting eggs.
A car cigarette lighter port adaptor can power the incubator on the go. The bright LED display makes it easy to view the temperature settings in both Celsius and Fahrenheit.
Easy to use
Has an efficient in-built cooling system
Independent temperature control
Enables you to control humidity levels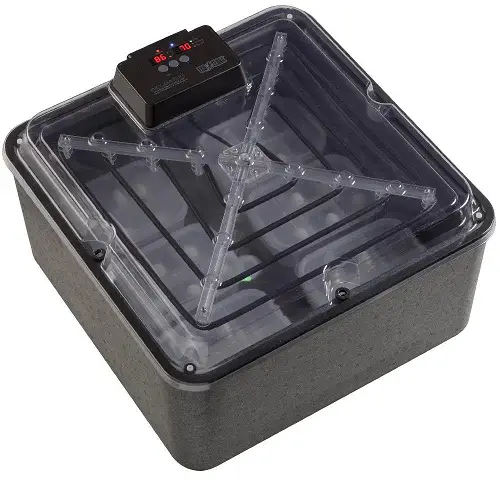 Exo Terra is a popular brand name in the pet supply industry that designs its own reptile incubators. The Exo Terra Reptile Egg Incubator is among most reptile stores' most commonly seen egg incubators. Hence, when it comes to purchasing the best reptile egg incubator, the Exo Terra brand can't be left out. It does have some great features that might be of interest to you.
Exo Terra has introduced a new reptile egg incubator model, Exo Terra Precision Incubator Pro, that provides greater control over temperature and humidity. The incubator has a dimming and pulse-proportional thermostat that seems to provide even greater temperature control than their previous incubator models. It also comes with a hygrostat and a separate humidifier that plugs into a USB socket to regulate the relative humidity accurately.
The Exo Terra Precision Incubator Pro is reasonably sized, with internal dimensions of 40.5cm x 40.5cm x 16cm. This allows for using six of their new incubation boxes, which are available to purchase separately. These boxes have excellent ventilation, allowing for perfect humidity around all the eggs in the box. In addition, they have egg indentations to prevent the eggs from rolling. The incubator has a digital temperature and humidity control with a clear LED display screen that displays the actual and pre-set temperature and humidity levels for easy monitoring. The digital adjustable temperature and humidity control allow users to customize the incubating conditions for each reptile species, reducing the risk of egg loss.
This is a well-designed unit that seems to work accurately and is well-suited for the needs of low-volume reptile breeders.
Automated heat and humidity control
Highly reliable
Easy to use and clean
Primarily designed for exotic reptiles
Quite expensive, but so worth it
Can accommodate only a few eggs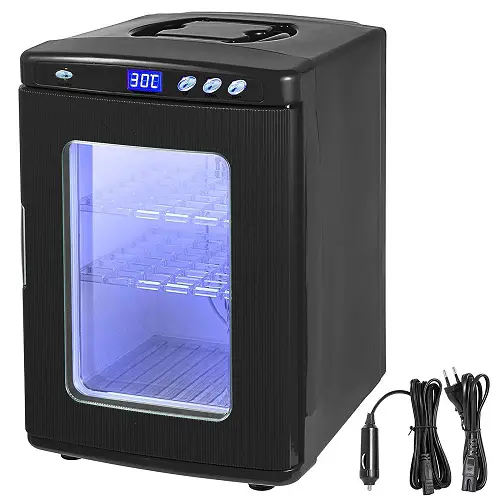 The Happybuy Black Reptile Incubator is an upright incubator with two movable shelves and a water-addition area at the bottom, primarily for raising the humidity levels inside the unit. Its vertical design and shape resemble that of a mini-fridge.
The Happybuy Black Reptile Incubator is a digital incubator that is spacious and ideal for reptile breeding. With internal dimensions of 28 cm x 25 cm x 36 cm, it can accommodate large batches of eggs, making it a perfect choice for breeders.
As a digital incubator, the Happybuy Black Reptile Incubator can maintain optimal conditions for eggs by autonomously controlling temperature and humidity levels. For example, it can keep temperature levels between 36°F and 140°F (5°C and 60°C), and humidity levels at the desired level, regardless of the external environment.
The Happybuy Black Reptile Incubator is one of the few incubators with an in-built cooling system. It is an ideal option for reptile eggs that require a winter cooling period. When you compare this incubator's features to its price point, the Happybuy Black Reptile Incubator is a great option for those looking for the best reptile egg incubator.
Easy to use
Has an efficient in-built cooling system
Independent temperature control
Enables you to control humidity levels
Its racks might be too big for certain types of eggs. Hence, the owner might need a suitable and compatible incubator tray.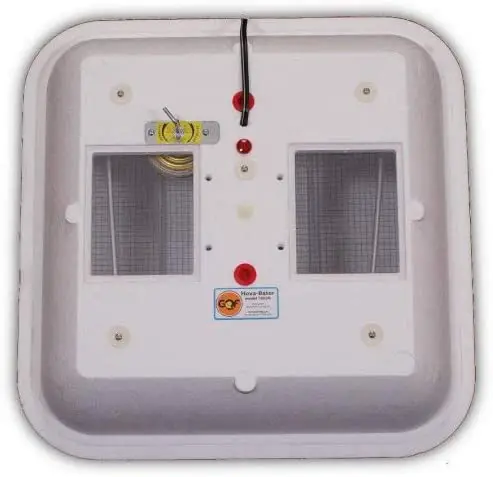 One popular small incubator amongst reptile breeders is the Hova-Bator Still-Air Egg Incubator. This incubator model, specifically made for reptile eggs, has great features. One is its chest-style design and the two glass viewing windows on the lid. This allows for clear observation of all incubating eggs to identify and solve potential problems quickly.
The Hova-Bator is also equipped with an innovative ventilation system. This system helps circulate heated air inside the incubator by gently pushing it up through the vents while drawing fresh air from the bottom vents. This system provides the necessary heat for developing eggs and prevents the accumulation of stale air, which can lead to mold growth.
This incubator comes with several accessories that can help you care for the eggs in the best way possible. They include a detached thermometer and hygrometer to help you maintain optimal humidity and temperature.
The Hova-Bator reptile incubator does not have a cooling system, which could cause temperatures to rise above optimal. However, its ventilation system appears to be effective in preventing this from occurring.
Advanced ventilation system
A viewing window is available
Comes with its own hygrometer and thermometer
A standard cooling system is absent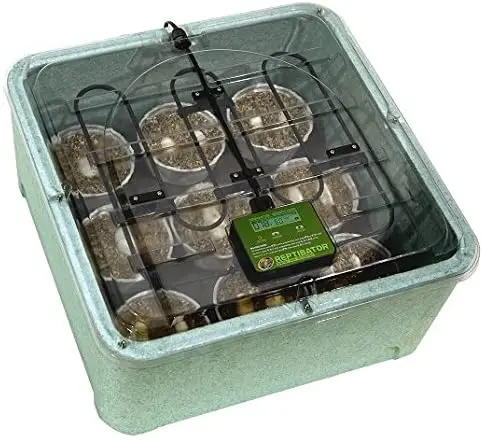 The Zoo Med Reptibator Egg Incubator is a clear-lidded, tub-style incubator that provides complete visibility of eggs during incubation. It features a temperature control system to maintain optimal temperatures between 59°F and 104°F (15°C and 40°C).
Though some breeders have claimed that the Zoo Med Reptibator egg incubator is not always accurate in maintaining appropriate temperature levels, the incubator is equipped with a temperature alarm that will notify you of any issues that could affect its performance, such as a power outage. This feature also allows the incubator to automatically apply your previous temperature settings once power is restored.
This incubator offers 15 in x 15 in x 6 in of interior space, making it large enough to accommodate multiple clutches of eggs simultaneously. Additionally, it features a water reservoir at its base, allowing you to control humidity levels to create a more comfortable incubation environment.
Although the Zoo Med Reptibator egg incubator is one of the most expensive options today, its exclusive features make it worth considering for those not limited by budget constraints.
Spacious
Emergency alert system
Automatic heat and humidity regulator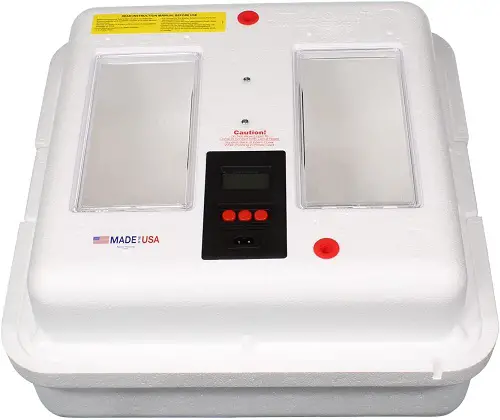 The Incubator Warehouse's Little Giant Still Air Reptile Incubator is a reliable and lightweight incubator that you can easily move around. Its lid has two large viewing windows that enable you to check on your eggs without opening the machine, thus reducing the risk of temperature or humidity fluctuations.
The Little Giant 9300 has a 40-watt heating element to ensure the developing eggs receive adequate heat. This incubator also has a hygrometer and a thermometer to help maintain optimal humidity and temperature levels.
The incubator is fitted with an LCD screen that displays the humidity and temperature readings inside the device. The buttons located beneath the digital screen enable you to adjust the settings according to your preference.
This incubator comes with bowls and substrates, making it a perfect choice for new breeders. The included accessories allow you to place your clutches in separate containers with moisture-retaining substrates, keeping the eggs secure and preventing them from drying out.
This incubator allows you to regulate humidity levels by adding water as needed. Additionally, since the eggs are in bowls, they can be easily moved.
In-built thermometer and hygrometer
Enhanced temperature and humidity control
Durable and easy to clean
Choosing the Best Reptile Incubator – The Ultimate Buying Guide
Suppose you are looking to purchase a reptile egg incubator. In that case, you need to read this comprehensive buying guide that will teach you everything you need to know about finding the best incubator for your needs, including what to look for and what features to consider.
What to Consider When Buying a Reptile Incubator?
There are several factors to consider when choosing a reptile incubator, especially if you are a beginner. Different types and models of reptile incubators come with different features, so it is vital to be informed of what you should look for before making a purchase. By doing your research, you can be sure to find the incubator that is best for your needs.
If you purchase an unsuitable incubator for your needs, it may be difficult to obtain a refund or get the desired results.
When choosing an incubator for your reptile eggs, be sure to consider the following:
Size
When selecting a reptile incubator, size is an important consideration. A small reptile incubator may not accommodate all the eggs you wish to hatch. In contrast, a too-big reptile incubator could be a waste of money if you're not hatching many eggs or if there is insufficient space to accommodate the device. Always check the incubator's dimensions before making a purchase.
Humidity Control
In hatching reptile eggs, the level of humidity in your reptile incubator will need to be adjusted according to the type of reptile eggs you are trying to hatch. The temperature and humidity levels must be carefully monitored and kept in balance in order to create a successful hatching environment. Some incubators are not well-designed and allow too much humidity to escape. So be sure to look for an incubator that can adequately maintain humidity.
Temperature Control
While the temperature is important for all incubators, it is especially crucial for reptile incubators. This is because the heat in the reptile incubator works in conjunction with the humidity to ensure that the eggs are kept at the optimal temperature. Thus, it is essential to know the ideal temperature for the species you are incubating before purchasing an incubator so as to buy an incubator that can maintain the right temperature range.
Design
When selecting a reptile incubator, you will need to choose between an upright or chest design. Upright incubators resemble a mini or tabletop fridge with a front window, while chest incubators resemble Tupperware with an opening at the top. There is no indication that one design is better than the other, so the choice of design is a matter of personal preference.
Ease of Cleaning
When choosing a reptile incubator, ease of cleaning is an important factor to consider. Some incubators can be difficult to clean or difficult to keep clean, so look for one with a design and materials that can be easily cleaned, such as a model made with ABS plastic.
Ease of Observation
Choosing a reptile incubator with a transparent body or viewing window is recommended. This way, you can easily observe what is going on inside the incubator and know when something goes wrong. By being able to see inside the incubator, you can more easily catch errors.
Verdict
Many reptile egg incubators are on the market today, each with its own features, price, and reliability. However, the best reptile egg incubators share some important features: They are efficient at temperature and humidity control, easy to use, and built to last. When choosing an incubator, make sure to keep these factors in mind to ensure the best possible hatch rate.
The PreAsion Digital Reptile Incubator is our top pick for the best reptile incubator. This incubator has a great design, is excellent value for money, and has outstanding performance.