Raising poultry birds can be an exciting and rewarding experience, but the hatching process can be challenging without the right equipment. This is where an egg incubator comes in. With the ability to control temperature and humidity, egg incubators provide the ideal conditions for hatching fertile eggs into healthy chicks. But with so many options available on the market, choosing the best egg incubator for your needs can be a daunting task.
In this article, we aim to guide you through the process of finding the perfect egg incubators, taking into consideration factors such as hatch rate, size, ease of use and cost. Whether you're an experienced poultry farmer or just starting, this comprehensive guide to the best egg incubators will provide you with the information you need to make an informed decision.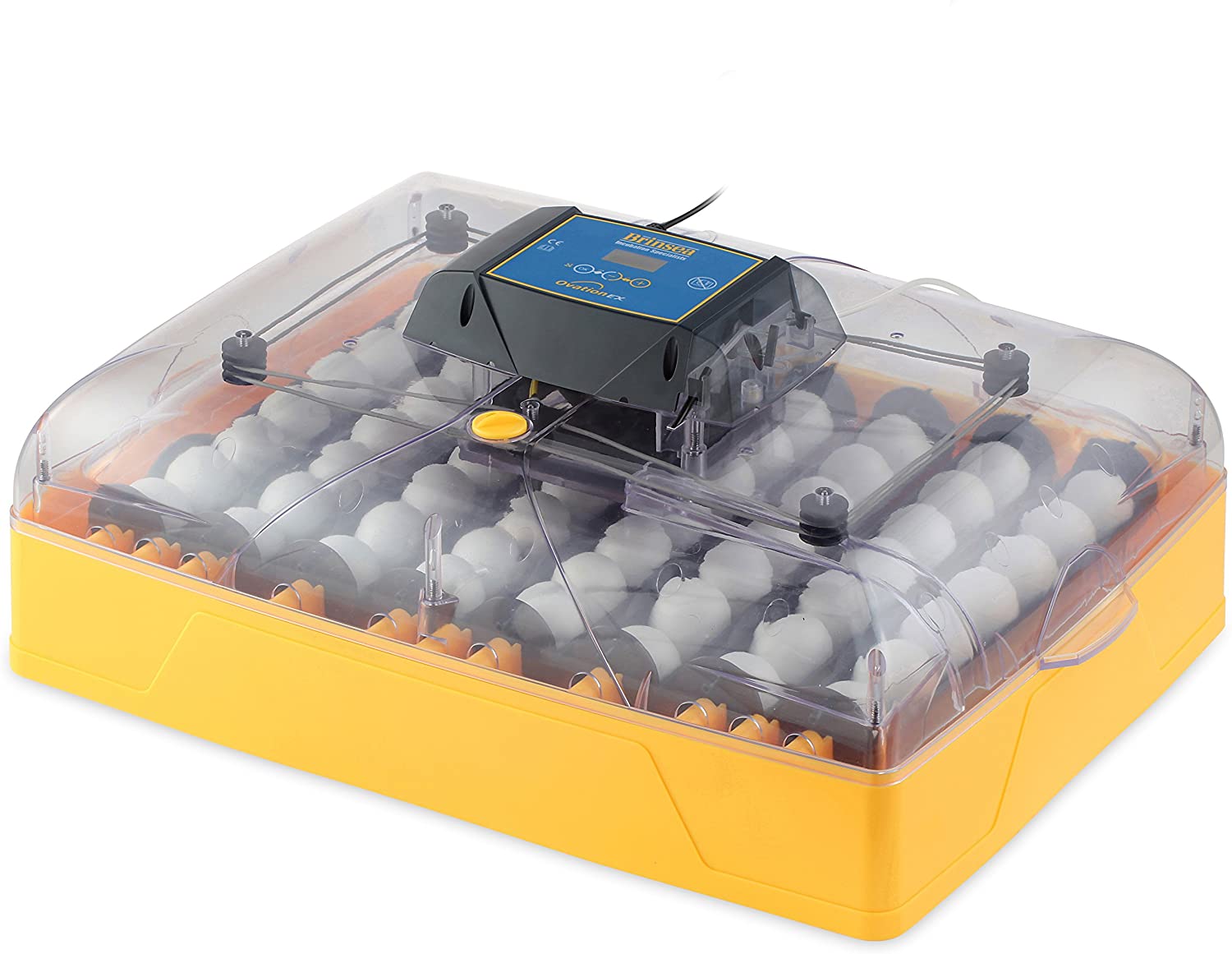 When it comes to hatching eggs, choosing the right incubator is very crucial. The Brinsea Ovation 56 EX Egg Incubator is a top-performing option on the market, offering maximum hatch success and peace of mind. This forced-air incubator is perfect for serious poultry breeders, as it has features such as an automatic egg turner and a highly precise digital control system for temperature, humidity and egg turning. With a maximum capacity of 56 standard chicken eggs and the option to add a humidity pump, the Brinsea Ovation 56 EX has you covered.
The robust ABS plastic used in the construction of this incubator not only makes it easy to clean and antiseptic but also durable. The incubator has been designed with accuracy and ease of use in mind, with automatic temperature and humidity control, and the ability to program the egg-turning intervals.
The Brinsea Ovation 56 EX also includes a built-in alarm to alert you in case of a power outage or temperature changes. The induced dual airflow system, fan-assisted airflow, and external water top-up system add to the incubator's efficiency and performance. To cut a long story short, the Brinsea Ovation 56 EX is a top-of-the-line egg incubator that will provide a hassle-free hatching experience.
Pros
Easy to use and user-friendly
Reliable and durable
Fully automated
In-built alert system
Cons
Comes with only standard egg carriers
It is costly but worth the money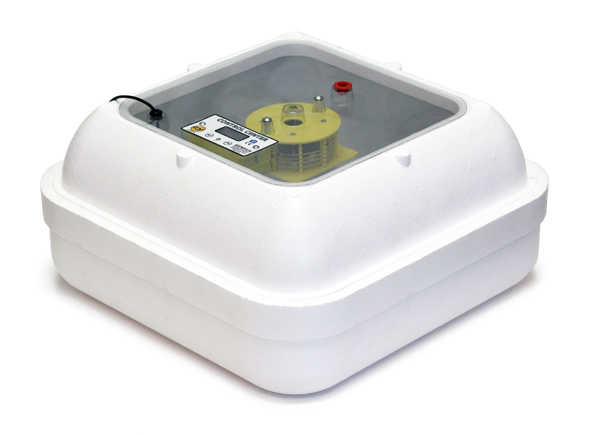 The HovaBator Genesis 1588 egg incubator is a 12-volt powered incubating machine perfect for beginner chicken farmers, small-scale breeders, and even educational purposes. You won't have to worry about assembling the incubator because this has been done at the factory. This incubator has a unique design, made from durable Styrofoam with a plastic mesh floor and egg tray. It also features a 12" x 12" viewing window and a Digital Display Control Module for easy monitoring. The HovaBator Genesis 1588 is also low-maintenance and easy to clean.
What sets this incubator apart is its automatic temperature control system, equipped with a microprocessor-based thermostat. The inbuilt thermostat digitally regulates the incubator's temperature, ensuring optimal conditions for embryonic development. Plus, with built-in heat sensors, you don't have to worry about eggs getting cooked due to overheating.
The LCD in the control center displays the actual temperature and humidity, keeping you informed on the incubator's working status. The forced-air design, complete with a built-in fan, ensures uniform circulation of fresh air and temperature stability. With the ability to hold 50 standard chicken or duck eggs or 130 quail eggs, the HovaBator Genesis 1588 egg incubator is an excellent option for high hatch success and a great incubation experience.
Pros
Easy to use and clean
Reliable and durable
It is power-efficient
Cons
Does not come with an egg turner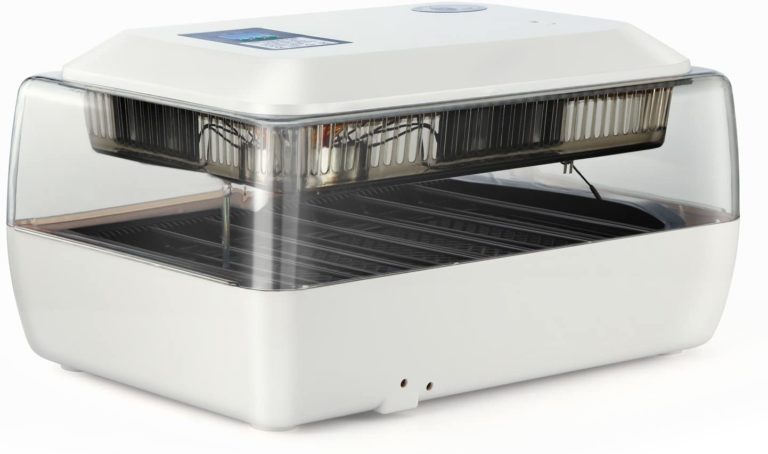 The JANOEL 24 Digital Egg Incubator is the best choice for those seeking a high-quality incubator at an affordable price. This incubator is ideal for hobbyists, chicken breeders, and even for teaching kids about egg incubation.
Featuring automatic egg turning, automatic temperature control, and a full LED display, the JANOEL 24 can incubate up to 24 standard chicken eggs, as well as eggs from ducks, geese, and turkeys (although the capacity is lower for larger eggs).
Constructed with durable and healthy plastics, this incubator has a transparent casing for easy monitoring, and its design and materials make cleaning and maintenance a breeze. The incubator also comes with an alarm to alert you when your attention is needed. The automatic egg turner works discreetly, ensuring that the incubation process is smooth and worry-free.
The JANOEL 24 Digital Egg Incubator offers maximum value for your money, with the potential for a 90% hatch rate success. With its user-friendly design and impressive features, this incubator is an excellent investment for anyone looking to incubate eggs with ease.
Pros
Easy to clean and beginner-friendly
Reliable and durable
Fully automated
Cons
Does not come with a hygrometer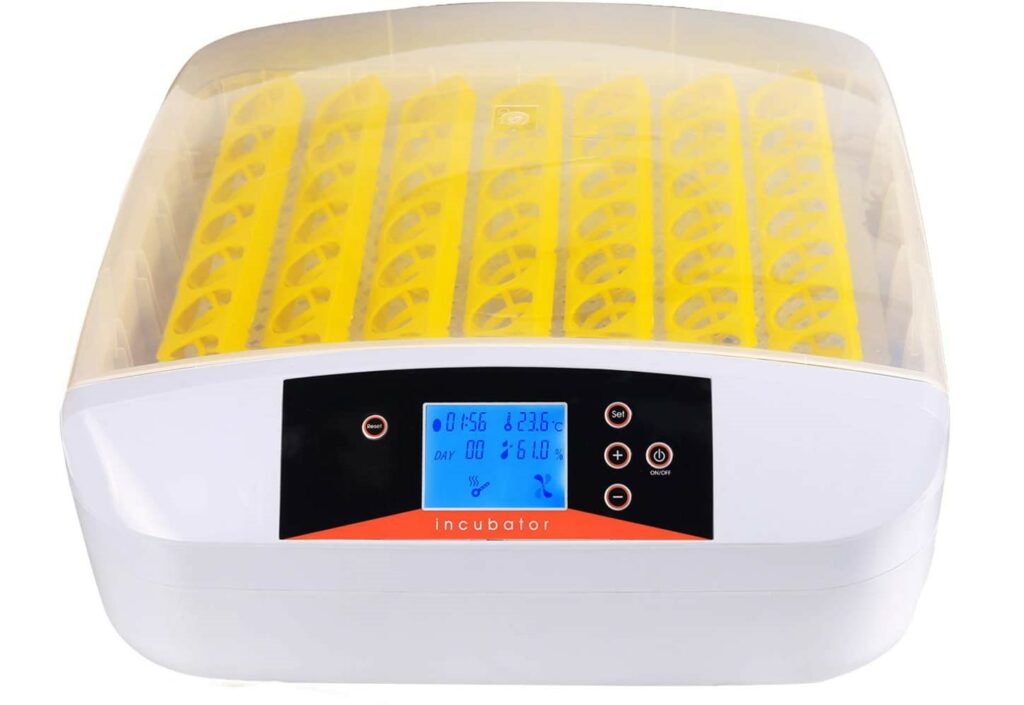 The OppsDecor Intelligent 42 Digital Egg Incubator is a must-have for anyone who values design, functionality, and technology when it comes to egg incubators. Its sleek and modern design is sure to impress, while its low price point makes it an affordable option for incubation enthusiasts of all levels.
With its automatic egg turner and advanced temperature and humidity control, this incubator is incredibly user-friendly. The transparent plastic cover provides a clear view into the incubation process, allowing you to keep an eye on your eggs at all times. The built-in fan helps regulate the temperature and humidity, ensuring optimal incubation conditions.
One of the key features of this incubator is its automatic egg turner, which operates every 2 hours to reduce hand contact with the eggs and minimize the risk of contamination. The built-in alarm goes off if the temperature and humidity fall outside of the pre-set range, ensuring that you can take prompt action to preserve the developing embryos.
The OppsDecor Intelligent 42 Digital Egg Incubator can hold up to 42 standard-sized chicken eggs, and its compact size makes it ideal for use in households or small-scale poultry farms. The LED display shows the current temperature, humidity, egg-turning countdown, and hatching days.
The OppsDecor Intelligent 42 Digital Egg Incubator is an excellent choice for anyone looking for a high-quality, easy-to-use, and intelligent incubator. With its advanced features and low price, this incubator is sure to become a favorite among egg-hatching enthusiasts everywhere.
Pros
Great design
Temperature and humidity warning
Easy to clean and maintain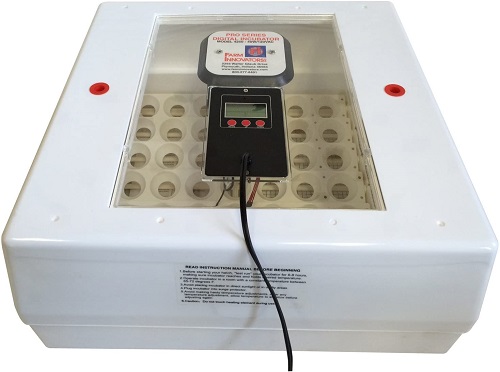 The Farm Innovators 4250 egg incubator is a top-notch option for household egg incubation and hatching. This reliable machine can handle all of your incubation and hatching needs, making it a popular choice among poultry farmers, researchers, breeders, and teachers alike.
With a built-in fan, the 4250 operates as a forced-air incubator and is capable of accommodating up to 41 standard chicken eggs. It also features an automatic egg turner, which rotates eggs every 4 hours, and an inbuilt thermostat that regulates the temperature within the incubator. While it doesn't have an alarm, it has a notification light that alerts you if the internal temperature rises above 103oF or falls below 97oF.
The hard plastic outer body and Styrofoam inner body of the incubator are both durable and easy to clean, ensuring a long lifespan for the machine. The lid features a large viewing window for observation and an LCD unit for monitoring humidity and temperature readings. Additionally, the control panel allows for customization of temperature and egg turning cycle.
Despite its limitations, the Farm Innovators 4250 incubator provides up to 90% hatch success, making it a smart investment for those seeking long-term value for their money.
Pros
Easy to maintain and use
Can hold many eggs
Perfect thermo-regulation system
Cons
It is not suitable for quail eggs
No alarm system
Choosing the Best Egg Incubators – The Buying Guide
The first step is to find the right egg incubator. With so many options available, it can be challenging to determine which one is the best fit for your needs. But worry not, this guide will break down all the essential factors you should consider before making your purchase. From the different types of incubators to the key features to look for, this guide will provide you with all the information you need to make an informed decision. Additionally, we'll give you an in-depth understanding of how egg incubators work, so you can choose the one that best meets your hatching requirements.
What to Consider When Buying an Egg Incubator
If you're looking to purchase an egg incubator, it's essential to be aware of the key features that the best models typically possess. Consider the following when making your decision:
Construction Materials
The materials used in the construction of an egg incubator play a big role in its longevity and efficiency. It's crucial to ensure that the incubator you're considering is made with quality materials, such as ABS Plastics or PC. Not only are these materials durable, but they're also easy to clean, which is a big plus. Additionally, you should check for any certifications or certifications of quality for the materials used.
Size
The size of the egg incubator you choose will depend on your hatchery needs and the amount of space you have available. For example, if you're just starting and don't have much space, it's best to opt for a smaller incubator. But if you have ample space, you can consider a medium-sized or large-sized incubator. The size you choose will impact the egg capacity and overall convenience, so consider your needs carefully.
Egg Capacity
The number of eggs that an egg incubator can hold and hatch at one time varies. The capacity you need will depend on the purpose of the incubator. For instance, if you're hatching a small number of eggs occasionally, an incubator that can hold between 9-12 standard chicken eggs will suffice. But if you're regularly hatching a large number of eggs, you may need a larger capacity incubator that can hold more eggs.
Egg Turning
Egg turning is a critical aspect of incubation. To mimic a mother hen's natural behavior, the eggs must be turned periodically during incubation. Some incubators come with an automatic egg-turning feature, which can save you time and minimize contamination. If you choose a model without an auto egg turner, you'll need to manually turn the eggs, which can be time-consuming and increase the risk of contamination.
Temperature Control
Maintaining a constant temperature is crucial for a successful hatch. The ideal temperature will vary based on the species of egg you're incubating, but it's important to choose an incubator with automatic temperature control and a display to monitor the temperature. Some incubators also have an alarm that will alert you if the temperature deviates from the desired range.
Airflow and Ventilation
Adequate airflow is necessary for a successful hatch. The egg shells have tiny pores through which the embryos breathe, so it's essential to choose an incubator with proper ventilation and a fan to ensure that the air is circulating. This will also help to keep the temperature consistent and minimize the risk of contamination.
Humidity Control and Monitoring
Humidity control is also an important factor for a successful hatch. The ideal humidity level for most species is between 25% and 60%. An incubator with a water channel and a display for monitoring the humidity will make it easier to maintain the correct level of humidity. Be sure to check the water level regularly and monitor the humidity display to ensure that the eggs are not losing moisture unnecessarily.
Ease of Observation
It's helpful to choose an incubator with a transparent lid or picture window so that you can observe the eggs and incubation process. This allows you to quickly identify any issues and take action as needed.
Ease of Cleaning
Finally, you should consider the ease of cleaning when choosing an egg incubator. An incubator with a cleanable design and materials, such as ABS plastic, will make it easier to keep the incubator hygienic and ready for use. You should also look for models with removable trays, which can be easily taken out for cleaning, and avoid models with complex designs that may be difficult to access and clean properly.
Verdict
Choosing an egg incubator can be difficult with the variety of options available. The information provided helps in selecting the best incubator to meet your needs. The Brinsea Ovation 56 EX Egg Incubator is recommended due to its features such as good design, value and performance.