As a quail farmer or someone in the quail breeding business, it is important for you to have a quail egg incubator. There are a few benefits of having one. First, it increases the number of eggs to be hatched in a particular period of time. It also makes it possible to incubate eggs from different quail hens at a time. Lastly, it can improve hatchability or hatching success unlike when a hen is used for incubation.
While it is good to buy quail egg incubators, it is a bit challenging to find the best one on the market, especially when smartness, durability, reliability and ease of usage are considered. You might even be confused about the ones to buy when presented with many options.
Read: How to Hatch Quail Eggs
In this article, we have selected and reviewed the best quail egg incubators to help you get the best incubation and hatching results. There is also a buying guide here with the vital details needed to make an informed decision and choose the best quail egg incubator.
Best Quail Egg Incubator Review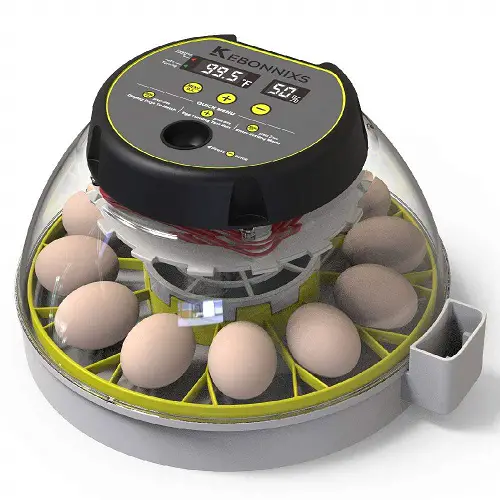 The KEBONNIXS 12 Egg Incubator remains the best mini egg incubator for all poultry eggs, especially quails and chickens. It is beginner-friendly and almost all operations are automated – from egg turning to temperature control. It is an ideal quail egg incubator for home, laboratory and classroom use due to its durability, ease of use and reliability.
This incubator has an advanced temperature control program to provide a stable temperature. Humidity is maintained with the help of the in-built fan and water channel. The external water top-up it comes with prevents frequent opening of the incubator just to add water.
The KEBONNIXS 12 Egg Incubator has a digital display unit where you can easily see the temperature, humidity, egg turning time and days to hatch. It also comes with an auto-stop egg turner and an egg candler located at the top of the incubator. Hence, you won't buy another egg candler to check for fertility and embryonic development.
Reliable, durable and easy to use and clean
Comes with an egg candler
External water top-up
Auto-stop turning of eggs
It is a little costlier, but it is worth the price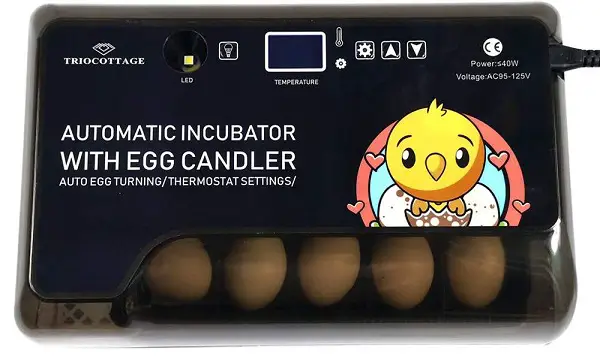 Built with healthy ABS plastic, the Triocottage Digital Mini Automatic Incubator is another quail egg incubator with the best value for your money. It is beginner-friendly, easy to use, easy to clean, well-designed and budget-friendly.
It has a viewing window for users to see everything happening inside the incubator. It also has Styrofoam which serves as additional insulation for stable temperature. It controls temperature automatically and accurately while the temperature reading shows in the LED display at the top.
Being a forced-air egg incubator, the Triocottage Digital Mini Automatic Incubator has a built-in fan that distributes air and heat to the eggs. There is a stepped sink under the incubator to control humidity effectively.
The Triocottage Digital Mini Automatic Incubator turns eggs automatically every two hours. With this feature in this incubator, the chances of contaminating your quail eggs with germs are lower. Another extra feature of this incubator is the LED egg candler that comes with it. This incubator can incubate and hatch 35 quail eggs at a time.
High hatch rate
Easy to clean and maintain
Comes with an egg candler
Durable and reliable
Stable and accurate temperature
No auto-stop egg turning
There is no day counter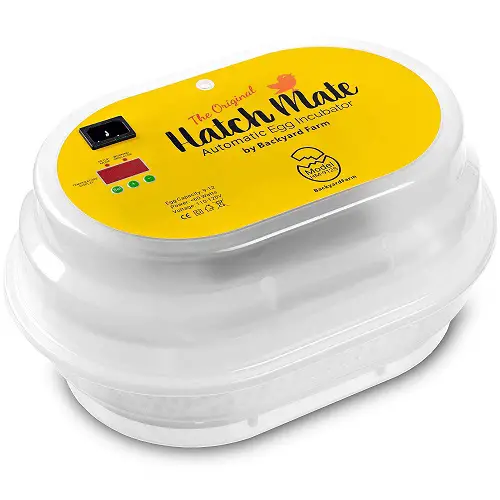 The HatchMate Egg Incubator is another great, easy-to-use, durable incubator for quail eggs. It could be used to incubator 12 quail eggs and it does require a lot of space to use as its dimension is 13 x 7.5 x 7 inches. It is perfect for classroom demonstrations, kids, hobbyists and small quail breeders.
This quail egg incubator comes with automatic temperature control. This is an important feature all incubators should have, as it saves users the hassle of manually trying to achieve the ideal temperature. There is also a small fan inside the device for the even distribution of air and heat.
Egg turning with the HatchMate Egg Incubator is automatic. The device comes with an auto egg turner and you won't need to do the turning yourself. This also reduces the chance of egg contamination due to frequent hand contact with the eggs. Apart from quail eggs, the incubator can be used for chicken, pheasant, turkey and guinea fowl eggs.
Beginner-friendly
Auto egg turning
Auto temperature control
LED display for temperature reading
Budget-friendly price
Doesn't come with a hygrometer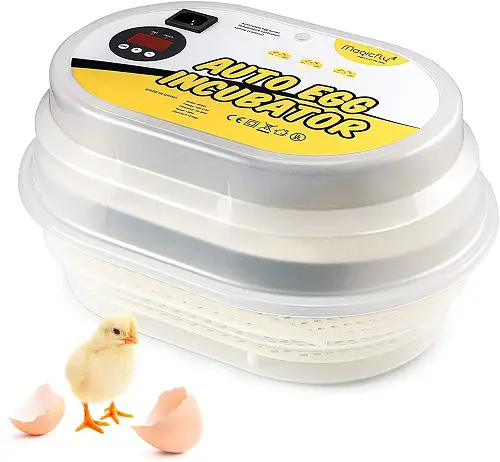 This is a durable, reliable and easy-to-use egg incubator by Magicfly. It comes with adjustable dividers, making it easy to hold in all sizes. As it is a mini quail egg incubator, you can incubate up to 12 quail eggs. It is a portable incubator with dimensions of 13.98 x 6.89 x 7.48 inches and it's made with PP+ABS material.
The Magicfly Mini Egg Incubator also features automatic temperature control and an auto egg turner. This simply means you only need to set the desired temperature while the built-in thermostat automatically controls the internal temperature. Egg turning is important to achieve a high hatching success rate. This device automatically turns your quail eggs at intervals without having to do it manually, which of course, is a task that takes time. Besides, having frequent hand contact with the eggs exposes them to bacterial contaminations. There is also an in-built fan to distribute air and heat within the incubator.
It is worth mentioning that this Magicfly Egg Incubator doesn't come with a humidity reader. Hence you would need to buy a digital hygrometer to measure humidity. The incubator has a pocket-friendly price and a good digital hygrometer. However, there is an LED display on its lid where the temperature reading is shown.
Price is pocket-friendly
Automatic temperature control
Auto egg turner
Can be used for other egg sizes
No hygrometer, but you can buy it separately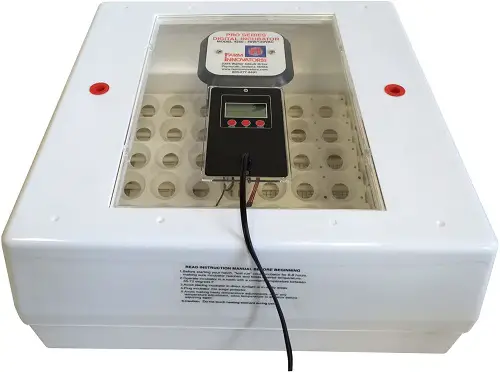 Looking for a quail egg incubator that could accommodate as high as 48 eggs? The Farm Innovators 2450 Egg Incubator is the best device for this. It is ideal for both quail farming businesses and hobbyists.
The Farm Innovators 2450 Egg Incubator has an LCD to show information such as temperature, humidity and days to hatch. It is a forced-air egg incubator with a fan to distribute heat and air. Temperature control is automatic and a notification light blinks when the heat is high or low.
The incubator has a large viewing window on its lid in order to allow users to see or observe what is happening inside the incubator. This incubator also comes with an automatic egg turner. Therefore, you do not have to turn the quail eggs yourself, which is time-consuming for some people. Overall, the Farm Innovators 2450 Egg Incubator is excellent for achieving superb hatch success rates.
Can hatch up to 48 quail eggs
Price is budget-friendly
Days to hatch display
Easy to use and clean