The egg incubation process is indeed an interesting experience. However, the whole process requires proper planning, good observation skills, time dedication, flexibility and the right egg incubator. The incubation process could be overwhelming for beginners, but when the best egg incubator for hatching eggs is used, the process becomes simplified and more fun.
Best Choice 96-Egg Incubators
To help you choose the best 96 eggs capacity incubator, we have come up with these best choice egg incubators o Amazon. You can buy any of them based on the features or functionalities they possess.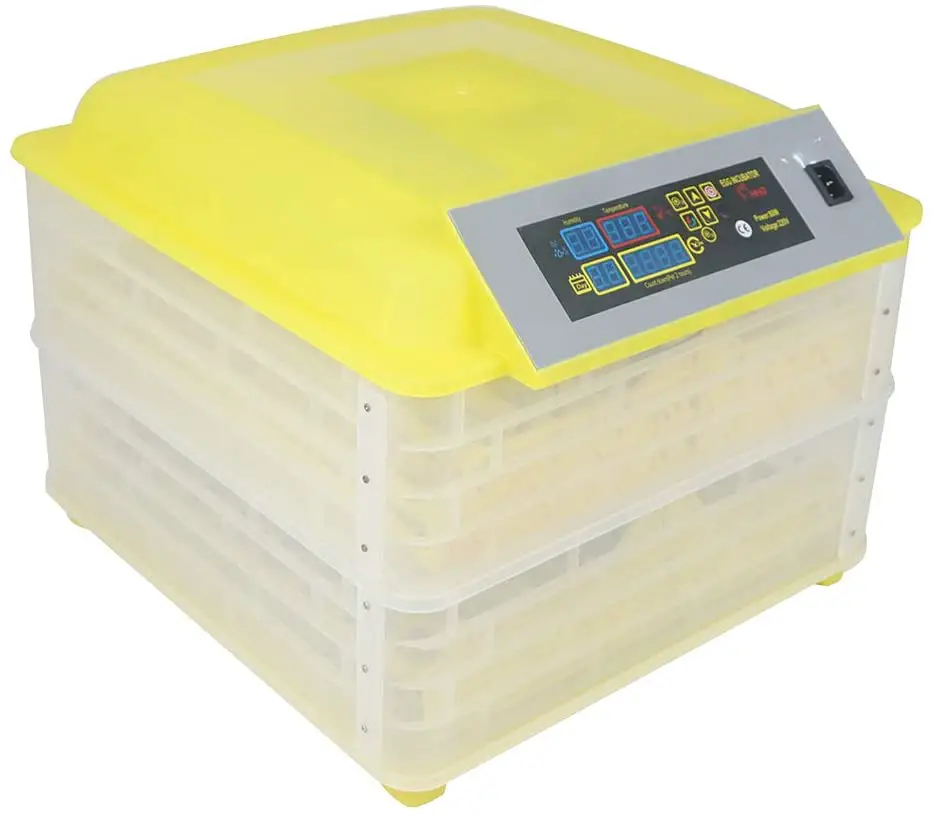 The PreAsion Digital Fully Automatic 96-Egg Incubator is one of the best 96 egg incubators you can find. It is built with durable ABS plastic material. Hence, it is very easy to clean and maintain.
This particular egg incubator possesses an intelligent, automatic temperature control to regulate the temperature and humidity in the incubator. Additionally, an alarm alerts you when the temperature or humidity exceeds the set values.
The PreAsion Digital Fully Automatic 96 Egg Incubator has a clear, transparent body. This makes it easy to observe the whole incubation and hatching process within the egg incubator. As indicated in its name, this egg incubator can conveniently hold 96 standard-size chicken eggs, over 124 quail eggs and 48 goose eggs.
As a forced air incubator, the in-built low-noise fan that comes with the PreAsion Digital Fully Automatic 96 Egg Incubator helps in air circulation, heat and humidity distribution and regulation. Another awesome feature this egg incubator has is the automatic egg turner. So you don't have to worry about turning eggs, especially if you're the type who forgets things easily. Besides, it will help you save time and energy unlike when you have to turn the eggs manually. Another merit of an auto egg turner is that it drastically reduces the possibility of contaminating the eggs as finger contact with eggs is reduced.
The digital LED display panel and control buttons are all located at the top of the incubator for easy use or checking and you will be able to see information like the humidity, temperature and egg turning countdown time.
Fully automated and saves energy
Lightweight and small body size
Good stability and high accuracy
Easy to clean and use
Can be used to hatch the eggs of chickens, ducks, turkeys, geese, quail and other birds
High hatching success rate
It is expensive but worth the price considering the features it has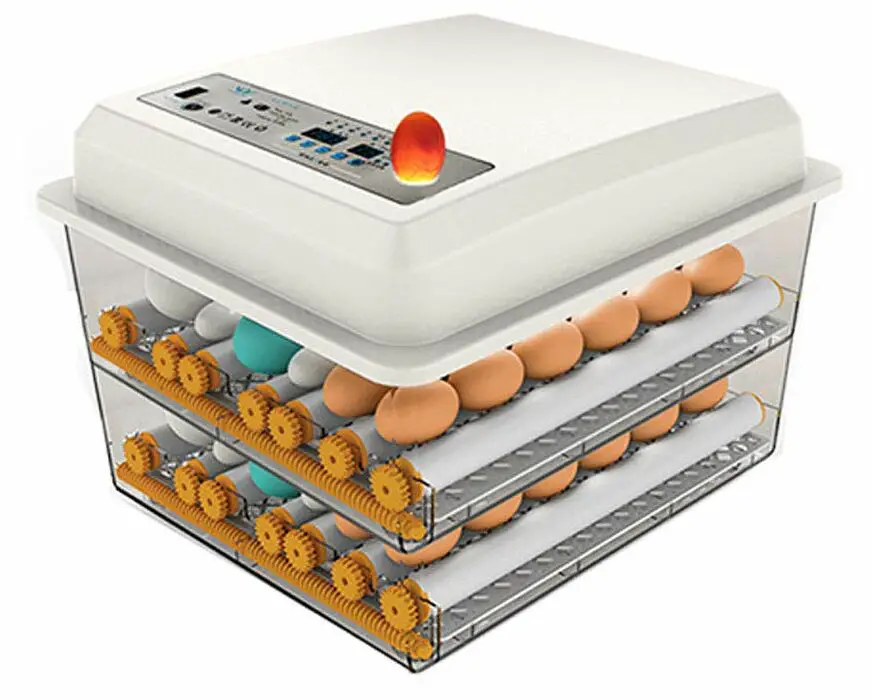 Interested in buying a reliable, efficient, fully automatic egg incubator that can incubate and hatch up to 96 chicken eggs? We recommend this JAEDO Fully Automatic 96 Egg Incubator and you won't regret buying it.
As stated in its name, the JAEDO Fully Automatic 96 Egg Incubator is a 100% automatic egg incubator that can incubate and hatch up to 96 chicken eggs with a very high hatch success rate. All important processes, from egg turning to humidity-temperature control, are carried out automatically by the device. Hence, you won't have to get yourself worried about stabilizing the temperature within the egg incubator or wasting precious time and energy trying to turn the eggs. Now imagine how long it would take you to turn 96 eggs. And since you won't be touching or handling the eggs often, contaminations are prevented.
Like most good egg incubators, this incubator is built with an excellent plastic material (ABS) that guarantees easy cleaning, long durability, and service life. As a fan forced-air incubator, the JAEDO Fully Automatic 96 Egg Incubator has a turbofan to distribute heat evenly and works in sync with the temperature control.
The control panel and the LED display unit are on the incubator's cover. The reset, set and adjust buttons are available. The LED display provides users with information like temperature and humidity readings and remaining hatching days. Indicators like the working and setting lights are also available.
Monitoring the whole incubation process is easy because the incubator's outer body is made of transparent plastics and you can easily see or monitor what is happening in the incubator without opening the device.
Suitable for all poultry eggs
Ideal for hobbyist, educational, home, school and lab use
Beginner-friendly and safe for children
Fully automatic
High hatching success rate
Easy to clean, maintain and use
No alarm or alert system
Quite expensive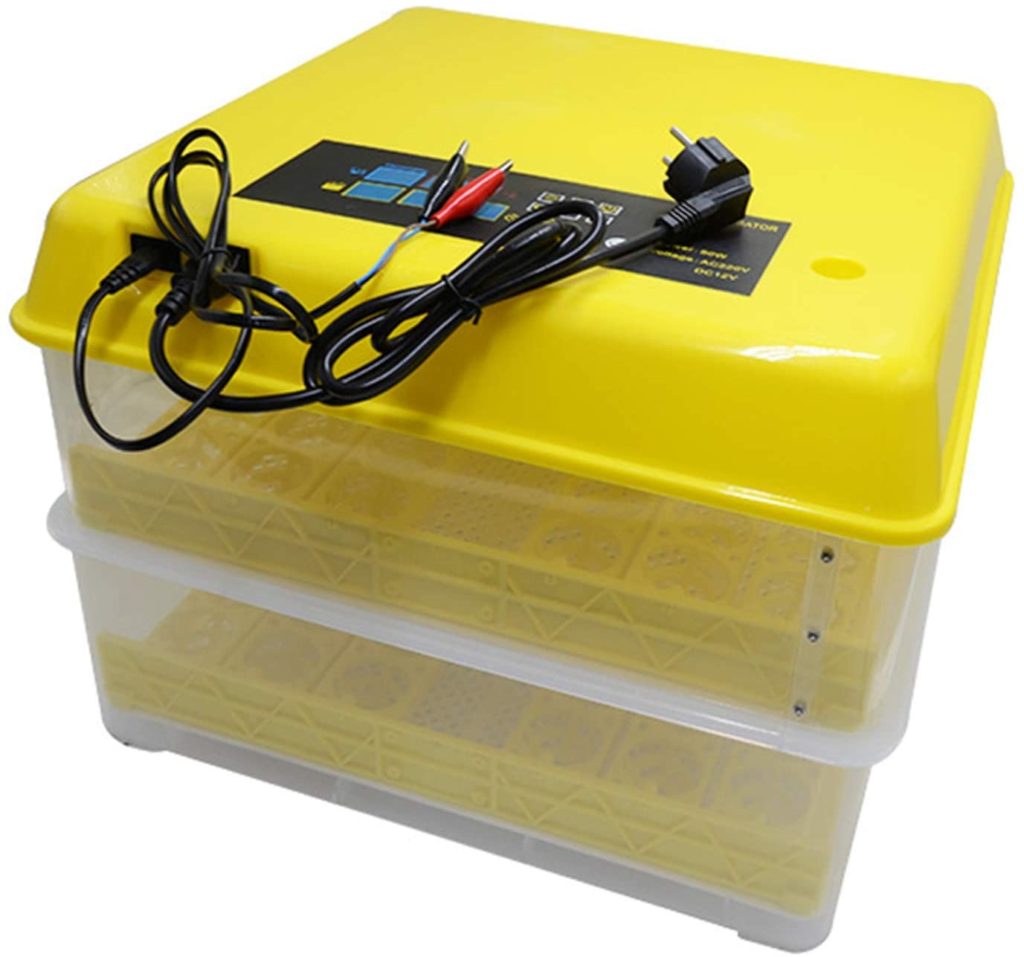 The Woyaochudan 96 Egg Incubator is another great fully 96-egg automatic egg incubator that gives good value for money. Built with ABS plastic, this incubator is easy to clean, bio-friendly and long-lasting. Apart front the fact that it is a multipurpose egg incubator (can hatch chicken, goose, turkey, duck, pigeon, quail, snake, tortoise and other reptile eggs), it can hatch many eggs (up to 96 eggs in the case of chickens) at once.
Being a fully automatic incubator, you won't turn the eggs or regulate the temperature yourself. The incubator itself will do everything. It features an auto egg turner powered by a pure copper motor. The turning is just a 45o swing from right to left every 2 hours. The temperature control works automatically. All thanks to the temperature and humidity sensors, including a low-noise turbofan that distributes heat in the incubator.
Top of it all, this Woyaochudan 96 Eggs Incubator uses both AC and DC power supply. If there is a power outage or you have no access to electricity, you can use a 12V DC battery to power the incubator.
There is also an external injection hole through which the user can add water to stabilize the humidity and temperature inside the device. The water moves to the multi-cell sink underneath the incubator. Just leave the rest to the incubator to do.
The smart control panel located at the top of the device is also easy to use. The basic control buttons are available. The LED display shows you the humidity, temperature readings, countdown timer, and incubation days. The outer body is transparent and observation of activities inside the machine without opening it is possible.
Can be operated by both kids and adults
Easy to operate and maintain
High hatching success
Can be used for a wide range of eggs
Fully automatic